When specifying a solenoid to operate in freezing weather, it's critical to identify the basic application needs and address the environmental conditions to ensure reliable operation. In an ideal world, a solenoid experiences a clean and dry media, proper installation, protection from adverse environmental concerns, and periodic cycling to "exercise" the solenoid. Of course, ideal conditions are often not possible in the real world.
By incorporating key solenoid valves features and options into your product, you can enhance the shifting performance of the solenoid in frigid conditions. It's paramount to consider these options during the solenoid valve selection process.
Versa's unique options have been applied and proven for decades in the most frigid environments on earth. Other manufacturers provide simple solution low temperature elastomers and lubricant (Versa -44 option), but what typically is not considered is compatibility when common anti-icing chemicals, such as methanol, are injected into the media flow stream. Others also offer options to ensure that the environmental entry points (exhaust ports) are properly protected. However, sintered filters and bug screens can become ice laden. This creates clogging points hindering actuated valves from opening or closing.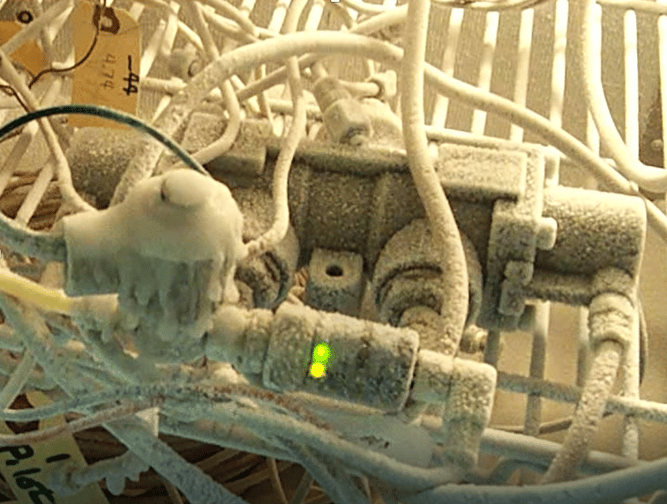 Versa's exhaust protector options incorporate a flexible elastomer which has passed testing in our environmental chambers iced to -40C (-D14 option pictured above). The greatest reliability solution is Versa's unique options -DP & -SS which provides the one-two punch with double the spool shifting force. This additional force provides the breakaway torque needed for the valve to open/close by overcoming the challenges caused when the component freezes and ice crystals are present.
Contact your local Versa Rep for the details on these and other field-proven shifting options.