Today, deep water drilling from floating platforms is largely the standard for offshore oil and gas operations. This means drilling operations are taking place in extremely difficult conditions and require highly reliable dynamic tension compensation systems to mitigate the motion caused by tides and rough seas.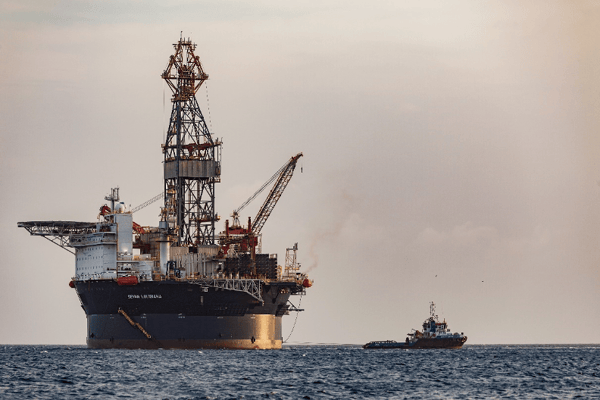 These tension compensation systems need to automatically adjust to reduce the amount of movement transmitted from the vessel to the drill string and drill bit. To do this, pneumatic and hydraulic cylinders that have cables attached to the seabed need to tighten and release to provide platform stability.
Manufacturers of pneumatic tension compensation systems depend on pneumatic valves that can operate reliably in harsh environments. Additionally, since this same type of equipment is needed on a variety of processes from the main drill rod to the crane that transfers supplies to ships and to automated process valves, these same manufacturers require that the components can be easily adapted between systems. It is critical that the tension compensation systems used in today's offshore and subsea projects use reliable components to ensure these systems perform safely and effectively.
Versa's manifold-mounted V-series brass pneumatic valves are an excellent fit for tension compensation systems. This solution offers the flexibility to be mounted on a common block away from the cylinders while possessing appropriate flow for fast actuation. This common mounting capability also streamlines the maintenance process, which is critical for operations in these types of remote environments.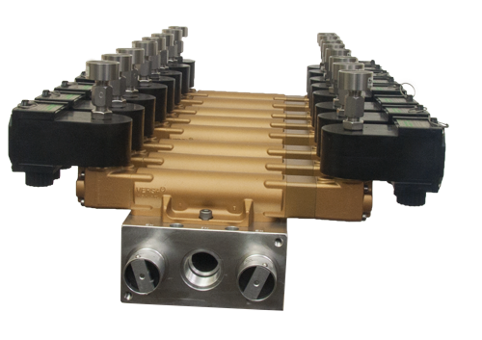 An example of Versa Products V Series tensioning assembly: a double solenoid ½" brass valves outfitted with encapsulated hazardous location IP67 solenoid operators. All exhaust ports are protected by DE series dust excluders. The aluminum manifold plate is custom and may be available in other materials.
Overall, tension compensation systems built using Versa's V-series valves helps ensure the security, safety, and efficiency of the offshore drilling process by dampening out tidal action to maintain the stability of the platform and the drilling system at the seabed.
For more information on Versa V Series product, view our catalog or contact us for a custom assemblies.