The rack and pinion actuator, controlled by a simple NAMUR valve, is popular and widely used to actuate quarter-turn ball and butterfly valves across a multitude of industrial and process control applications. Valve automation specialists apply this solution in food and beverage processing, pulp and paper, steel production, and oil and gas, just to name just a few applications.
Companies spend valuable resources ensuring that their instrumentation and controls are well protected from the elements and their compressed air is clean, dry, and free from sediment and particulates. In many cases, this is not enough if the actuator is exposed to caustic or corrosive ambient air caused by plant pollutants, emissions, maritime proximity, or other environmental issues. The spring side of the rack and pinion actuator is exposed to all harmful contaminants present in the ambient air. These contaminants damage the actuator's internal components resulting in reliability degradation, increased maintenance needs, and premature failure.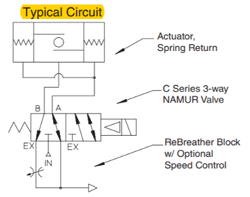 The Versa NAMUR ReBreather kit prevents this damage from happening by redirecting the clean instrumentation air, thereby preventing external dirty air from entering the actuator spring side. This add-on accessory is also designed to use available instrument air to fill the spring side and thus ensuring that only clean air enters the actuator. The instrument air the rebreather utilizes on the return stroke is the air from the exhaust cycle of the piston side of actuator. No additional air is required to complete the cycle, hence the reason this accessory is called a ReBreather. It simply reuses the clean exhaust air to keep the actuator clean and free from contamination.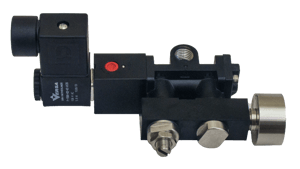 The Versa NAMUR ReBreather is available as a factory installed option on new valves, or as a kit for existing NAMUR valves. It can be ordered with popular options including speed controls, standard dust filters, and watertight dust filters.
Full specifications and pricing may be found at VersaSelect.