VersaSelect is now available as an online tool to help you identify the right Versa products based on your specifications, compare similar products, access product documentation, and buy online. This tool is designed to help you easily specify, vet, and select valves and accessories to get you up and running quickly.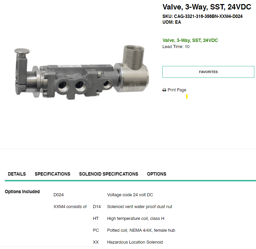 Using VersaSelect, you can find the valve you need in two ways. If you know the Versa part number, just enter it and the selector does the rest. Alternatively, you can use the selector is to build a valve based on the attributes you know you need. You can select size, material of construction, flow, actuation, and function, for example, and VersaSelect will list the valves that meet your specifications.
When multiple valves meet your specifications, you can use the tool's compare feature, which highlights the differences among your various options. If you need a quick sample to confirm your valve choice for your equipment or valve automation package, you can buy it online in the VersaSelect online shopping tool, which provides a simple buying process.
To ensure you have all the information you need for your project or application, VersaSelect provides extensive product documentation for your selected valve, including specifications, literature, drawings, and installation and maintenance instructions. You can download this information directly from the VeraSelect tool.

Versa's network of global factory authorized distributors are also available to help you select and purchase the ideal valves and accessories as well as provide local support for technical and commercial needs. As always, Versa's unsurpassed 10-year warranty applies regardless of which method you use to buy a Versa product. We stand by our valves so you can stand by your solution.
Check out VersaSelect or find your local distributor to find the right valve for your next application.