When Versa began back in 1949, air quality was a major issue. That is why we developed fully ported, high flow valves adapted to handle all the dust, dirt, and grime that may flow through the valve. While air quality has improved, our valves remain more useful than ever in dirty environments and in situations where dust, dirt, and grime come from outside the pneumatic circuit. However, even with Versa valves, it is vitally important to use dust exclusion technology in particularly harsh environments.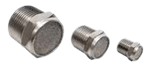 Versa Vent Screens, Option -MFS, are exhaust port mufflers available in sintered Stainless Steel and Nickel-plated Brass. These options are a great solution for dust, bugs, and noise. They are best suited for non-lubricated and stable temperature environments.

Versa Dust Excluders, Option -DE, are exhaust port dust exclusion technology available in stainless steel and Aluminum. They offer arubber diaphragm design that lets media, moisture, and dust out of your valve without letting contaminants into the valve. The -DE is an excellent solution for lubricated
systems, variable temperature environments where condensed moisture may freeze, and any outdoor application.
Versa Solenoid Dust Nuts are our dust exclusion technology designed exclusively to protect electronic solenoid actuators. We highly recommended the solenoid dust nut for all applications as it protects the most sensitive part of the valve, the solenoid actuator, and provides increased reliability and longevity.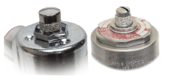 For dry environments we offer L14 or E14: our sintered dust excluder options which function as a noise muffler and dust excluder in the solenoid sleeve.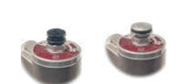 For any environment exposed to moisture, our waterproof solenoid dust excluder is highly recommended. These are available in stainless steel, suffix -D14, and newly available engineered polymer, suffix -C14.
Dust Exclusion Combinations are a great way to ensure your Versa Valve is suitable in any environment. Combination suffix -DK combines a nickel-plated brass vent screen with our engineering polymer solenoid dust nut. For increased corrosion resistance, this option can be upgraded to suffix -DKE which combines a stainless steel vent screen and solenoid dust nut options. This option is strongly recommended as an easy, cost effective way to increase reliability and protect your entire pneumatic circuit from dust, dirt, and grime.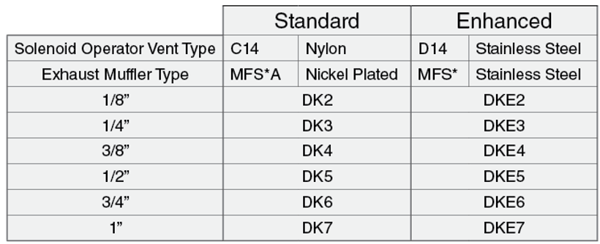 In extreme cases of heavy dust/debris Versa offers the combination suffix -DD or (-DG for stainless series) for spool valves. This option eliminates vent holes, adds protective seals at modular interfaces, includes a hollowed "dustproof" plunger, and adds Solenoid Dust Nuts where applicable.
For more details, options, and information feel free to reach out to our technical support team.
Visit VersaSelect for full specifications and pricing.
Refer to the accessories catalog for more information.