Download any certificate you need
Actuator solenoids are certified by multiple standards and notified bodies worldwide, including ATEX, CSA®, FM™, IECEx, Inmetro (Brazil), KC (Korea), PESO (India), TR-CU (Russia), TS (Taiwan), and UL® in order to ensure worker and public safety, for example, when dealing with hazardous materials, environments or emergency shut down situations. These organizations are legislatively empowered in particular countries or regional jurisdictions to define product performance standards that must be met or exceeded in order to be legally certified for use in most applications.
Manufacturers must obtain certifications and provide them to customers on request. Typically, manufacturers demonstrate compliance to these standards via calculations, drawings, and test data along with proof of operating under a quality control program such as ISO 9001.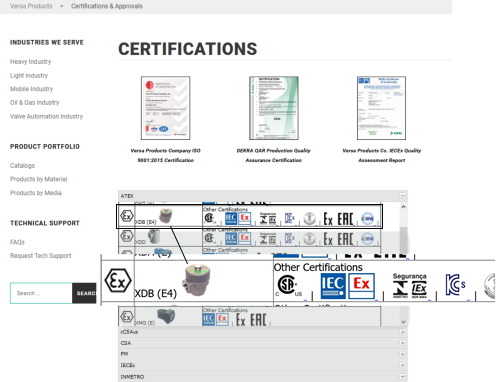 With the application on Versa's certification page, shown above, you can easily find certifications by products and then click to download the certification certificate.
Versa Valves actuator solenoids are extensively certified worldwide, and these certifications are continuously maintained to stay up to date as standards change, or new requirements are added. We make it easy for you to obtain copies of certificates by selecting and downloading them online or contacting a Versa Valves actuator solenoid technical specialist to discuss your specific certification needs. All these certificates are available for direct download by:
Visiting our certification page for a complete listing of certifications by product line.
Click on the '+' is the certification standard row you need (e.g. ATEX) to expand that row to show all available Versa Valves actuator solenoids certified to that standard.
Click on the certification logo (1st column) to download the relevant certificate.
Click on any Valve Series product (2nd column) to visit the detailed product page for more details on that product.
The 3rd column lists additional certifications available for those products.
If you need help finding the right certificate or selecting the right certified solenoid, we stand ready to help and support you. Please contact us to talk to an actuator solenoid valve and certification expert or find a Versa distribution partner in your vicinity to discuss the right product configuration for your specific certification requirements.