How did Versa avoid the fate of many entrepreneurial companies that began in 1949 and failed after 1, 3, 5, or 10 years? Dreams and grit, coupled with a little luck in the early years, set the stage for the decades to follow.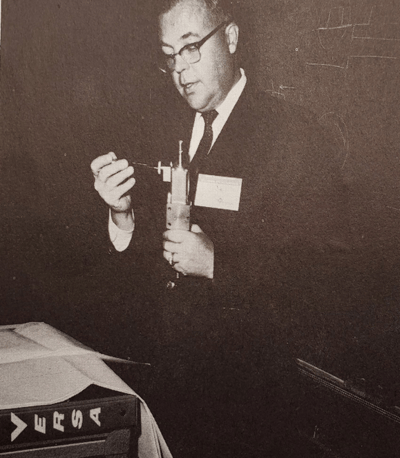 Carl Carlson conducting a training session at a 1962 Versa distributor meeting
Conceived in post WWII times, Versa was the brainchild of a first generation American, born on a houseboat in the New York harbor, who could pursue his education only by the grace of the GI Bill. After graduating college with his Bachelor of Science in Mechanical Engineering, Carl Carlson took a position at a valve manufacturer and soon proposed an idea for an alternative valve design he believed to be superior. When Carlson's employer expressed no interest in his concept, he and a couple of like-minded entrepreneurs pursued the idea with all the blood and sweat-generating effort they could muster. The rest is history.
Versa's first years were fraught with challenges and risk. Carl persuaded his brother-in-law, Karl Larsson, a first-class toolmaker and machinist, to join the venture. Howard Meyer, a former colleague who was experienced in testing new designs, was recruited along with Frank Engstrom Sr., an experienced salesman and investor, to get the venture off the ground.
From 1949 until the mid 1950s, the core team worked full time jobs outside of Versa and then dedicated nights and weekends to launch their dream. Each week they also contributed a portion of their outside salary to Versa to buy tooling, machinery, and pay rent for a garage to house the business. There was an additional original founder, but he sold his investment back to Versa because his family wanted the money to buy a television. For the owners who remained steadfast in their commitment, the business required sacrifice, but they obviously saw the possibilities.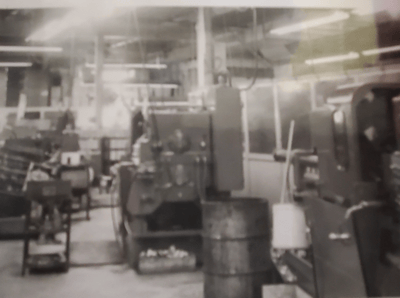 First machine shop at Versa
Every new venture needs a break. Versa's came in the early 1950s with regards to a sales model. Having decided on a model that coupled the talents of distribution with a superior product, Versa needed a first-class distribution network. Our opportunity to partner with many of the best distributors of the day happened when a competitor decided to sell direct and cancel their distributors. So, along with dreams and grit, good fortune paved the way for Versa to accelerate growth. We quickly signed on 7 distributors, which made it possible for Karl and Howard to join Versa full time, to recruit additional employees, and to grow the business. In fact, some Versa distributors today are from those early relationships that we were so fortunate to form.
The challenges of producing product in the early 1950s were steep, given Versa could only afford used equipment requiring nurturing and talented hands to operate. The first products, the V series ¼" brass in 2, 3, and 4-way side-ported designs, were soon followed by manifold versions. Initially machined from sand castings, we soon tooled for forgings which offered a better finish and appearance. Carlson was not only President of Versa, but also the Chief Engineer until he retired in 1980. All our products continue to hold his commitment to excellence in design.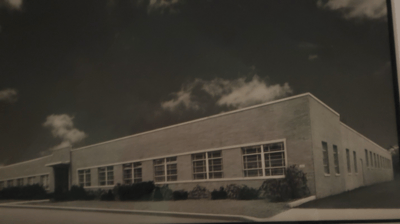 Versa's manufacturing facility in Englewood, NJ 1960-1980
Today, Versa is owned and operated by the family of the founders and we have maintained our steadfast dedication to all our partners — from employees to customers and from our distributors to our suppliers. This is unique in today's business world and has always defined who we are as a company. To Versa, business is not transactional, it is all about relationships and win/win, non-zero-sum scenarios. We are part of a business ecosystem that thrives when we all work toward common goals and do whatever it takes to delight each customer – not just today, but over the long term. It is not by accident that we retain many customers, distributors, and suppliers from our early days.
Finally, our company mantra, "Get it Right, Fast" continues to serve us well. It provides direction and focus as we prepare for the changes that will be required in products, customer and market needs, production methods, and employee recruitment, retention, and education for the 2020s. With change as our imperative, we look ahead with optimism towards our 75th anniversary celebration in 2024. Stay tuned...we are already planning the menu.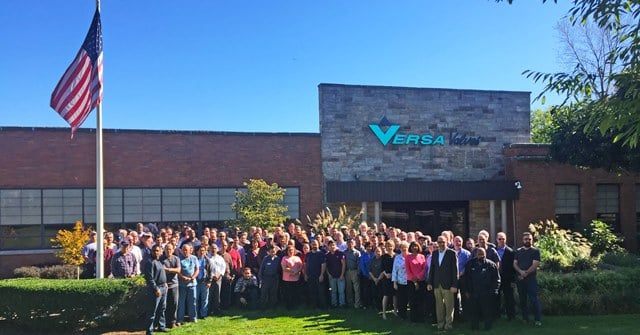 Versa headquarters & manufacturing facility in Paramus, NJ