Latching valves are particularly suited to applications where it is desirable or mandatory to manually reset or restart a system.
A typical application could involve the emergency shutdown of automatically monitored process operations. Loss or interruption of the control signal to the valve actuator causes the valve to shift, latch, and shut-down a process step. When the signal is restored the valve remains in the latched position until the operator manually unlatches it and allows the process step to resume. Positive latching in such an application is vitally important since many process operations are sequential and one step must not be started until the one ahead of it has started.
This example is only one of many which can be accommodated through the use of Versa's Latching Valves. A wide range of functional types, port sizes, actuators, and latching arrangements provides the engineer with a complete choice of valving to suit his particular needs.
Latching/Reset Devices For Series V or V-316 Valves
The Latching Device actuator consists of the latch, with or without an integral spring for returning the valve plunger, and an inline hand operator where needed to manually shift the valve.
The specific Latching Device may be attached to any Series "V" valve body size or style up to 1" NPT or any Series V-316 valve body up to 1/2" NPT, as indicated for the type of latching/reset device required. The actuator on the opposite end of the valve body would be a solenoid/pilot device.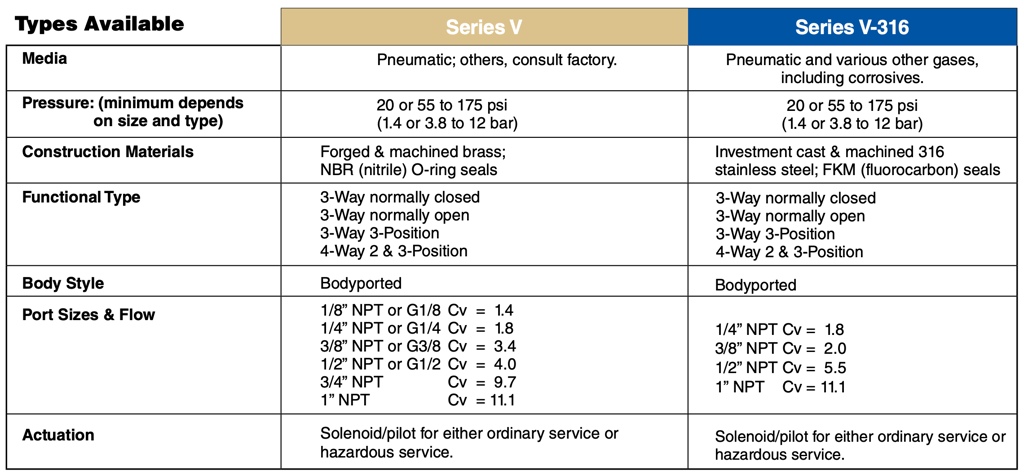 Download the valve automaton catalog to learn more about this product or contact our technical experts to discuss specific requirements for your application.